| | |
| --- | --- |
| Menu: | Infra Suite Options |
| Ribbon: | Infra Suite General |
| Command entry: | FOPTIONS |
Options dialog enables customizing Holixa Infra Suite application environment settings to meet user's needs: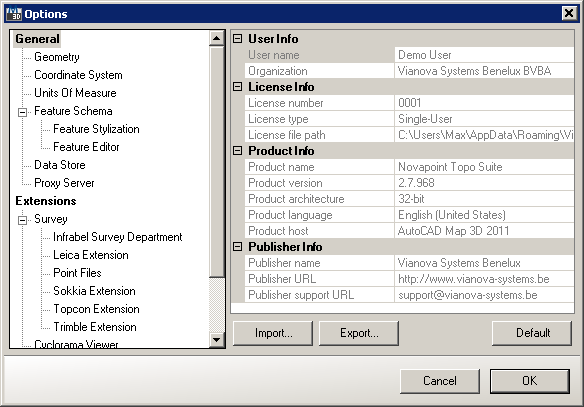 Options dialog
The Options dialog displays two major groups of settings:
General

- a general group of settings, common to all application extensions.

Extensions

- an extension-specific group of settings.
Dialog provides following content management buttons:
Import

- imports custom settings from the specified .ini file.

Export

- exports current settings to the specified .ini file on disk.

Default

- restores default factory settings.
Selecting a General settings tab in the options tree displays common application settings such as:
User info

- information about license holder, such as user name and organization.

License info

- shows current

licensing

information, such as license number, type and license file path.

Product info

- contains

installed

application information, such as product name, version, architecture, language and host.

Publisher info

- helper information about

Arkance Systems Benelux

, such as contact URL and e-mail address.
General application settings include:
Settings in AutoCAD Environment
The settings can also be reached via standard AutoCAD's Options dialog using (the right-most) Holixa Infra Suite tab: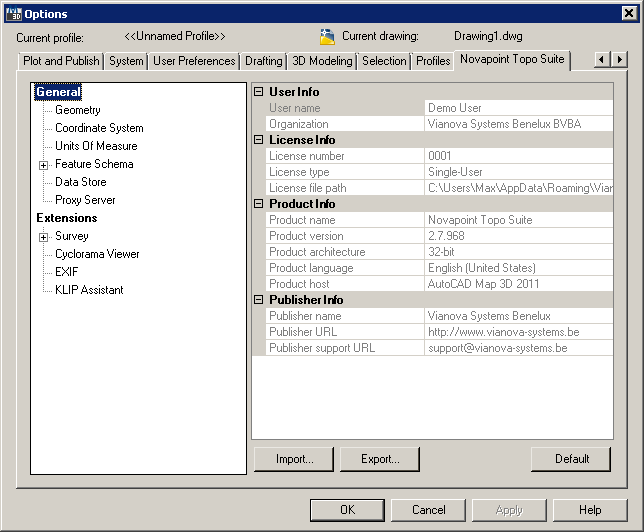 Holixa Infra Suite settings tab embedded in AutoCAD's Options dialog