Layer filter expression enables filtering AutoCAD entities by layer name: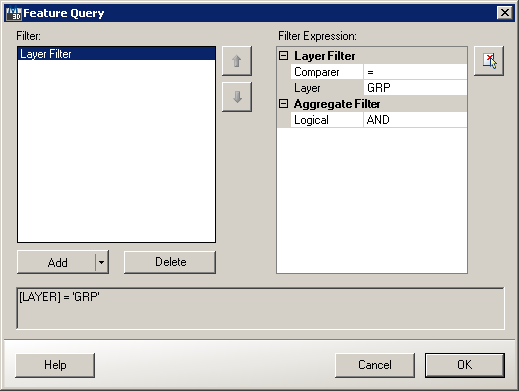 Feature Query dialog with Layer Filter
Filter expression provides following controls and options:
Comparer

- specifies

comparison operation

for selected feature class.

Layer

- lets you specify layer name(s) to compare against. Multiple values are separated with comma (,)

Logical

- specifies

logical operator

for filter expression within current filter.

Picker button

- enables specifying layer name by letting you pick an entity in current drawing (available only on AutoCAD).
When instantiating filter expression from code following rules apply:
Evaluated only if feature has geometry.

Is considered empty if layer name is empty.

Is valid if layer name is not empty and uses valid wildcards.

Comparison operations:

=

,

<>

,

LIKE

,

IN