Elevation filter expression enables filtering features by their elevation geometric property.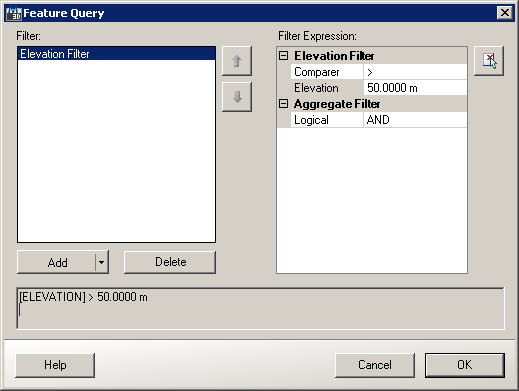 Feature Query dialog with Elevation Filter
Filter expression provides following controls and options:
Comparer

- specifies

comparison operation

for selected feature class.

Elevation

- lets you specify elevation to compare feature geometries against.

Logical

- specifies

logical operator

for filter expression within current filter.

Picker button

- enables specifying elevation name by letting you pick a feature in current drawing (available only on AutoCAD).
When instantiating filter expression from code following rules apply:
Evaluated only if feature has geometry.

Is never considered empty.

Elevation value can be lower, equal or greater than zero.

Comparison operations:

=

,

<>

,

<

,

>

,

<=

,

>=