The network key allows multiple network clients to access a GeoView-based product using a single hardware key. Network keys, which are typically connected to servers on the LAN or WAN network, are programmed at the GeoCrew with a hard limit. The hard limit defines the maximum number of licenses that can be obtained from the key, and thus the maximum number of users (both local and across the network) that can access the application. A software driver necessary for running the network key and network license manager application are commonly shipped separately from the GeoView-based product.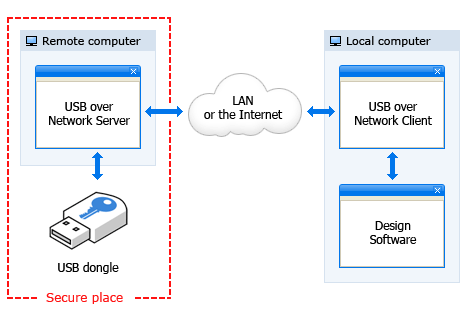 Multiple clients can access the key(s) attached to a system in a network. Sentinel Protection Server must be running on the system where the key is attached.
Enabling Network-based License Model
On supported Windows operating systems:
Run the

License Administrator

tool.

Once License Administrator dialog opens, select

Licensing Mode

tab page.

Select

Network (requires running license server)

option.

In

License Server Settings

section enter the IP address of running

Sentinel Protection Server

instance.

Click

OK

button to close the dialog and confirm switching to newly selected licensing model.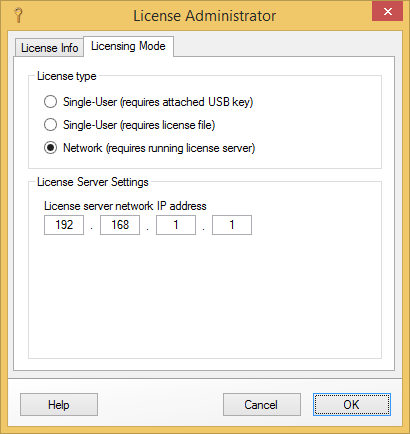 License Administrator's network-based licensing mode
Multiple Key and Server Support
Up to 10 keys can be connected to USB or parallel ports on the same server; up to five parallel port keys can be attached to the same parallel port. There is no limit to the maximum number of servers you can have on the network. Thus, the network's total concurrent license limit is the sum of all the limits in all keys attached to all servers. If a user attempts to access network license server and the first server has reached its license limit, it automatically checks the first key on another server for an available license. Use of multiple servers helps avoid a single point of failure.
Application Time-Out
The server can disconnect a user, and release the license for use by other users, after a predetermined amount of time has elapsed with no access to the network key (cca 1-2 minutes). This helps prevent idle users from tying up licenses, and permits recovery of licenses used by aborted programs or workstations that are unexpectedly disconnected from the network.
| | |
| --- | --- |
| | Please keep in mind that mentioned licensing modes are "compatible" among each other, e.g. if your organization uses network key for multiple workstations - you may still use single-user key to work on a laptop computer you take from your organization's LAN into the field. SL key plugged into your workstation have precedence over NL key. You don't need to set any option to make it work as described.. |
Licensing in Virtual Environment
As displayed in the image below, it is possible to access sentinel server from within virtual machine, taking into account that needed ports are accessible: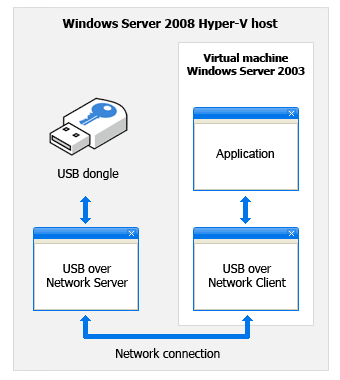 Accessing License Server from within Virtual machine